Sister Joan Clare
Medical Relief Advisor for MMI
SISTER JOAN CLARE CHIN LOY was born on May 31, 1931 and is of Chinese descent. Sister Joan Clare holds advanced degrees in the Sciences as well as Educational Psychology, Guidance and Counseling, Tests and Measurements. She holds degrees from Fordham University (New York) as well as having studied at Howard University (Washington, DC), Notre Dame (Indiana), and the University of London (UK).
She served the United Nations High Commissioner in the position of "Implementing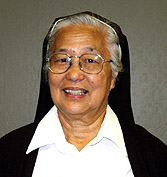 Partner for Refugees" in Jamaica. Sister Joan Clare is now the Medical Relief Advisor for Medical Mission International. She brings to MMI a highly experienced background in the world of refugee assistance and worldwide public health.
Her work as a programme advisor and spokesperson for MMI greatly enhances and benefits our mission outreaches around the world where her positive impact is felt wherever the destitute, sick and suffering are found. Sister Joan is a vital key in opening doors to allow lifesaving emergency aid and general relief to reach locations of need and crisis.
Working in areas of poverty such as the dump sites of Manila, Bicol, as well as throughout Asia and Africa, Sister Joan Clare has fought against the effects of TB and a host of other deadly diseases.