The core mission of MMI is to provide Health, Healing, and Hope to the world's sick, suffering, and needy people.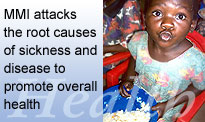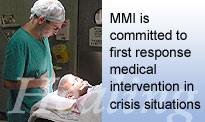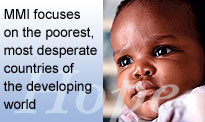 7,615,360 MILLION PEOPLE
WILL DIE FROM
STARVATION THIS YEAR
Programme Areas
How MMI fulfills our three-fold mission
MMI fulfills its mission to bring health, healing and hope to needy people through the MMI MedNet– a network of independent organisations and programmes already operating in strategic areas of the world. Our work with these organisations focuses on seven key Programme Areas:
Emergency Medical Relief – Giving life-saving aid in disaster and crisis situations is MMI's first priority.

Medicines and Medical Supplies – MMI offers ongoing assistance to community based agencies, clinics and hospitals.

Public Awareness and Education – MMI communicates both needs and health solutions.

Community Health – MMI assists local leaders to establish sustainable community health efforts.
Short Term Mission Teams – When invited by local authorities, MMI supports volunteer medical teams addressing specific crisis needs.
Medical Volunteers – MMI encourages medical volunteers and supports personnel who are invited to help in local situations.
New Approaches and Services – When needed, MMI is open to assisting innovative, effective solutions.